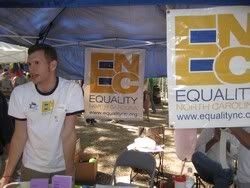 We've been doing a lot of blogging about LGBT issues at the national level, specifically ENDA and all the political schisms erupting here and elsewhere, but it's good to remind ourselves that the rubber often hits the road at the local level, where our advocacy organizations do a lot with not a lot of resources.
During our Pride last weekend here in NC (my post here), and the good folks at EqualityNC had a table up all day. People were enthusiastically signing the Safe Schools Petition — 900 folks in support of it. We have an LGBT-inclusive School Violence Prevention Act making its way through the State Senate. Since there was a lot of buzz there about ENDA, as well as other issues, ENC took an informal poll on what most concerned LGBT Tar Heels:
Over half the respondents thought preventing the anti-gay marriage amendment was top priority. North Carolina remains the only Southern state to legislatively stop a constitutional amendment to reduce gay folks to second-class citizens who cannot marry.

A close second was preventing anti-gay bullying in our schools (something Equality NC is working hard to do next session with our Safe School legislation). Many people also expressed concern that the trans community isn't included often enough in pro-LGBT legislation — a particularly relevant issue given the recent attempts to remove trans-inclusion from the federal Employment Nondiscrimination Act, efforts which ENC strongly opposes.

Employment nondiscrimination, both statewide and national (including repeal of the military's Don't Ask Don't Tell policy), was also cited.
Just a few weeks ago, I was in Birmingham speaking at Alabama's Day of Equality and Gala (put on by Equality Alabama), where hundreds of grassroots activists (LGB and T) came together to attend workshops and support the local advocacy organization.
On November 3, LGBT North Carolinians get their opportunity to come together, share stories and strategize how to advance our rights in our state with the 2007 Equality Conference & Gala. It will held at the Duke University School of Law, and will feature workshops that bring together movement leaders, grassroots advocates, and LGBT citizens from across the state for a day of networking, skills-building, and learning. In the evening there will be a gala held at the Nasher Museum of Art in Durham.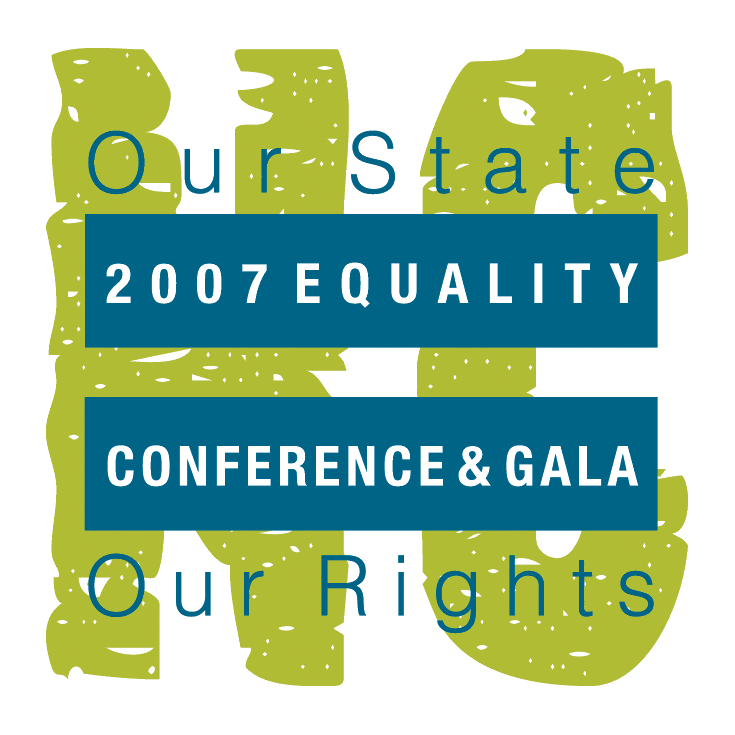 I serve on the conference committee, and was pleased as all get-out to confirm that Alabama Representative Patricia Todd is going to join us to speak about her journey to become the first openly gay elected official in that state; and Gay and Lesbian Alliance Against Defamation (GLAAD) President Neil Guiliano will also bring his perspective to attendees. What's exciting is that we will have several member of the North Carolina General Assembly there. Remember, in this state, being an open advocate of LGBT rights can be no small feat in some circles, and we look forward to educating more elected officials about moving forward in support of equality. In fact, the first Equality North Carolina Award for Legislative Leadership will be given to Representative Rick Glazier for his strong work on the School Violence Prevention Act.
I'll moderate a panel that should be extremely lively, "Still Crossing Those Bridges: Facing Racial and Ethnic Barriers," featuring Mandy Carter, Co-Founder, Southerners on New Ground, Durham, Reverend Roger E. Hayes, Pastor, Church of the Holy Spirit Fellowship, Inc., Winston-Salem, Alba Onofrio, Executive Director, El Centro Hispano, Durham, and Allan Taziri, Member, Fayetteville Bayard Rustin Commemorative Alliance.
[A side note: until late last week, I thought discussing race was the major third rail topic that makes people uncomfortable with implicit bias; little did I know that discussing transgender issues would raise equally troubling questions about the inability of people to handle difficult and divisive subjects honestly and openly without wounding. You live and learn.]
See some of the other workshops, including one with the pastor who made news at the Dem YouTube debate with a question on marriage equality, over at my pad.