I have to give props to the NC GOP for playing hardball with hetero Privette; at least they are sending him the kind of message that the GOP on the Hill hasn't given to Diaper David Vitter, who also admitted diddling around with sex workers.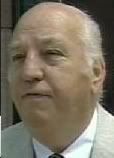 Coy C. Privette, the Cabarrus County (NC) commissioner, retired Baptist minister, and disgraced former head of The Christian Action League, recently pleaded guilty to six counts of aiding and abetting prostitution. Yes, Coy repeatedly broke his religious marital vows over and over for a little horizontal bop on the meter.
The 74-year-old retired pastor is now being urged to resign by his fellow commissioners, and he received a formal letter to that effect.
The state Republican Party chairman said she has sent Privette a priority-mail letter urging him to step down.

…"It was my opinion that he should step down immediately," state party Chairman Linda Daves said Thursday afternoon. "The letter said he's dishonored and disgraced."

…Daves said she talked with Privette on Sunday and told him he should resign immediately for the good of the party.
Here's an excerpt of the letter Privette received:
Despite your many years of service to the people of Cabarrus County and the Republican Party, your behavior has severed a public trust, and you have sacrificed the privilege to represent the people of North Carolina. Your confessed conduct is dishonorable to yourself, your family, the people you represent, and our Party."
Privette, btw, has said he will not step down.
Betsy at Blue NC says this:
I'm not sure I want Privette to resign. See, he and my BFF, Robin "Flipper" Hayes are tight. Coy's followers provide GOTV assistance to Hayes and other local Republicans and I don't want Privette to resign and rob me of the chance to link Robin Hayes to a man who is guilty of straying outside the bounds of morality and using a prostitute to satisfy his carnal desires. Now we know just what kind of "action" he was getting at The Christian Action League.

Speaking of Robin Hayes….he's been silent on the news that his friend and colleague, Coy Privette can't keep his peter in his pants. Does Robin Hayes think that if he stays quiet long enough nobody is going to point out that he and Coy go way back? I mean…they're pinky shake, spit on the ground, best friends fo'evahhhhh kind of pals. A friendship like that simply shouldn't be hidden away at a time like this. Coy needs his buddies. Come on Robin Hayes, show a proselytizing old pervert some love.