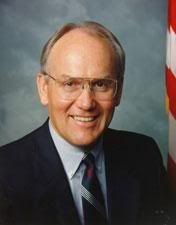 A little recap for schadenfreude lovers. It was a bad time for cruising for homophobic Senator Larry Craig (R-ID), who pleaded guilty on August 8 to a disorderly conduct charge after his arrest in the Minneapolis-St. Paul International Airport in June.
An undercover officer just happened to be investigating complaints of lewd behavior and cruising in the men's restroom there when Craig decided to repeatedly leer between the cracks into the stall the officer was in, then proceeded to enter the adjacent stall and play footsie and gesture under the partition for sex. Larry, btw, learn to flush.
Karsnia showed his police identification under the stall. "With my left hand near the floor, I pointed towards the exit," the report said. "Craig responded, 'No!' I again pointed towards the exit. Craig exited the stall with his roller bags without flushing the toilet. … Craig said he would not go. I told Craig that he was under arrest, he had to go, and that I didn't want to make a scene. Craig then left the restroom."
The senator, once detained at the Airport Police Operations Center tried the old "do you know who I am?" maneuver, showing the arresting officer his business card indicating he was a Powerful Man of InfluenceTM, saying "What do you think about that?" but alas, that didn't fly. Here's the guilty plea court document.
In the annals of GOP sexual hypocrisy excuses, we have this new one to add to the database — the Wide Stance DefenseTM.
Craig denied any lewd intentions and told police he has a "wide stance" in the bathroom and reached down to pick up a piece of paper from the floor.

"It should be noted that there was not a piece of paper on the bathroom floor, nor did Craig pick up a piece of paper," Karsnia wrote in the police report.
He pled guilty, but now he says it was all a big misunderstanding (sound familiar?).
"At the time of this incident, I complained to the police that they were misconstruing my actions," he said. "I should have had the advice of counsel in resolving this matter. In hindsight, I should not have pled guilty. I was trying to handle this matter myself quickly and expeditiously."
What — the pickup, the power play at the police station, or trying to make it all go away?
Craig, by the way, avoided 10 days in the Hennepin County, Minnesota pokey/workhouse for his bathroom. He's on probation for a year and paid $575 in fines and fees.The Idaho Statesman's Dan Popkey has a piece on its investigation of Craig's rumored closeted sexual netherworld after the senator was outed in 2006, which includes scuttlebutt going back to his college days, and the infamous 1982 pre-emptive denial regarding allegations of sex with underaged congressional pages going on up on the Hill.
The most serious finding by the Statesman was the report by a professional man with close ties to Republican officials. The 40-year-old man reported having oral sex with Craig at Washington's Union Station, probably in 2004. The Statesman also spoke with a man who said Craig made a sexual advance toward him at the University of Idaho in 1967 and a man who said Craig "cruised" him for sex in 1994 at the REI store in Boise.
The Statesman interviewed the Union Station cruise, who said that the men had sex in two restrooms with the encounter lasting "three or four minutes."
***
Yesterday Larry Craig decided to step down as co-senate liaison for Mitt. The Romney's campaign, which proudly hosted a video of Craig supporting the presidential candidate, quickly yanked it from its site (screenshot here), with Mitt's mouthpiece, Matt Rhoades announcing"Senator Craig has stepped down from his role with the campaign. He did not want to be a distraction and we accept his decision."
As we reported yesterday (and how it always is for these guys) Larry Craig's public record as a social conservative is solid. He:
* Voted YES on constitutional ban of same-sex marriage. (Jun 2006)
* Voted NO on adding sexual orientation to definition of hate crimes. (Jun 2002)
* Voted NO on expanding hate crimes to include sexual orientation. (Jun 2000)
* Voted YES on prohibiting same-sex marriage. (Sep 1996)
* Voted NO on prohibiting job discrimination by sexual orientation. (Sep 1996)
Craig also has a 0% rating in HRC's 2006 Congressional Scorecard.
The senator from Idaho, along with John Ashcroft and Trent Lott, formed The Singing Senators. He should think about hooking up with some of these guys to form a new group: Bob Allen, David Vitter, Mark Foley, Glenn Murphy, Jr., Tommy Tester, Ted Haggard…the list goes on and on.
Any suggestions for a name for the group and additional members?