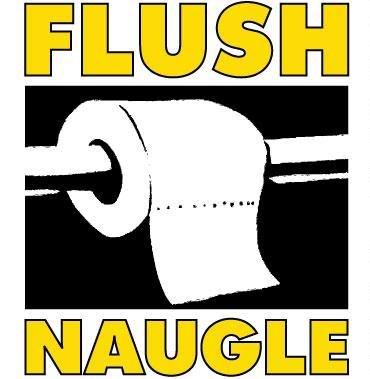 You'd think the unnaturally homo-obsessed Mayor of Fort Lauderdale would have taken a breather from his 24/7 campaign to destroy tourism there, but sadly, Jim Naugle hasn't gotten the message. he's continuing to assert that there is an epidemic of gay male sex going on in the public beach restrooms.
After failing to convince the city to spend $250K on robo-toilets to prevent all the imaginary man-on-man action (the police can account for only two arrests in three years), he has gone on a public crusade that only further gives Fort Lauderdale a black eye.
For instance, the mayor recently held another press conference, this time flanked by fundies to promote "healthy public places" (video here and here). At his side:
* the Rev. O'Neal Dozier of Pompano Beach's Worldwide Christian Center ("Everyone, regardless of his place on the political spectrum, should agree that public sex-whether it be in parks, restrooms, department stores, or bathhouses – endangers lives and fuels the public health crisis we face in Broward.");
* Dr. John Diggs of the Massachusetts Physicians Resource Council
* infamous radio fundie Janet Folger of Faith2Action ("The mayor is doing what most families want. We don't want to be known as the AIDS capital in the country.");
* Gary Cass, president of the Christian Anti-Defamation League
* Pastor Willie McBride of Lauderdale Christian Center in Plantation.
Also in this HealthyPublicPlaces.com coalition supporting the mayor, some familiar names — Americans for Truth, Christian Anti-Defamation Commission, Christian Interactive Network, Concerned Women for America, Coral Ridge Ministries, Faith2Action, Stephen Bennett Ministries, and the Worldwide Christian Center.
Diggs handed out copies of his discredited paper, "The Health Risks Of Gay Sex," which goes into details that they love to obsess over, with headings for "gay sex" such as Anal-genital, Oral-anal, Human Waste, Fisting, Sadism. Never mind that heterosexuals practice such things; that would ruin Diggs' party. Debunking of this paper can be found here.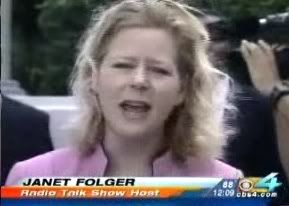 Activist Anthony Niedwiecki was interviewed for the Sun-Sentinel article on the press conference wrote this about Diggs:
He basically attributed every sexually transmitted disease to men on men sex, including anal cancer (not a STD, but he repeatedly referred to this) and HPV. When asked by a reporter why they are not addressing the increase in HIV cases among African-American and Haitan-American heterosexual women, the population that has seen the highest increase in Broward over the past few years, he blamed it on gay men on the "down low". He essentially blamed gay men for every new disease out there and on every new incident of HIV transmission. As I told one reporter, I felt like it was August 21, 1985.
As Anthony noted, in Broward County women make up a third of HIV cases diagnosed in the past 10 years. It begs the question why this crowd is fixated on imaginary gay men having sex in a beach restroom, rather than communities where they need to focus their attention.
Fort Lauderdale ranks # 6 among gay vacationers last year — and the demo represents 11% of the $8.5 billion that rolls into Broward County's coffers annually. Naugle is flushing it all away. The Greater Fort Lauderdale Convention & Visitors Bureau has been alarmed at the fallout from the homophobic mayor's tirades, and has sent out letters to try to stave off a boycott of the area.
According to Waymon Hudson of Fight Out Loud, on Thursday the tourism board shared with Naugle the blowback that is already occurring:
Board members said that each time the mayor speaks they receive hundreds of E-mails from potential visitors to Ft Lauderdale, saying they plan to take their money elsewhere. One board member said a 200-person group was scheduled to stay at a prominent hotel in Ft Lauderdale. In light of Naugle's comments, they have placed the reservation, along with $250,000 in revenue, on hold. These concerns have come from not only gay and lesbian travelers, but from other tourists as well. They have said they no longer see the Greater Fort Lauderdale area as a welcoming or safe place to travel.
What did Naugle say in response?


"I am the Mayor that's not going to back down. One of the things that my dad taught me is that it isn't always about the money, it's about doing what's right."
And he's going to take all of you folks in Fort Lauderdale down with him.
UNITE Fort Lauderdale has action items — including contacting the Commissioners of the City of Fort Lauderdale.
Related:
* Robo-potty Naugle: "I have longtime friends in the homosexual community."
* Letter from the Fort Lauderdale CVB disowning Naugle
* Shock jock robo-potty Mayor Naugle torched by FL newspaper editorial
* Images of beach restroom sex vex Ft. Lauderdale mayor, calls for robojohns* Naugle: is he looking to keep the straight men out of the potty?
* Flushing Naugle
* The 'Flush Naugle' campaign escalates* Fundie defends homophobic robo-potty mayor Naugle
* Pro-diversity rally in Ft. Lauderdale today to counter the $250K robo-potty mayor.