He pleaded guilty, folks. This was kept under wraps for some time. The question is, will he take pointers from Florida State Rep Bob Allen when he discusses his public foray into man-on-man action for the press? It's all a big misunderstanding, you know. I wonder if there were any scary black men or lightning storms near the airport. Roll Call has the goods.

Sen. Larry Craig (R-Idaho) was arrested in June at a Minnesota airport by a plainclothes police officer investigating lewd conduct complaints in a men's public restroom, according to an arrest report obtained by Roll Call Monday afternoon.

Craig's arrest occurred just after noon on June 11 at Minneapolis-St. Paul International Airport. On Aug. 8, he pleaded guilty to misdemeanor disorderly conduct in the Hennepin County District Court. He paid more than $500 in fines and fees, and a 10-day jail sentence was stayed. He also was given one year of probation with the court that began on Aug. 8.

A spokesman for Craig described the incident as a "he said/he said misunderstanding," and said the office would release a fuller statement later Monday afternoon.

After he was arrested, Craig, who is married, was taken to the Airport Police Operations Center to be interviewed about the lewd conduct incident, according to the police report.
Howie Klein from Down With Tyranny:

Idaho reactionary and well-known closet queen, Larry Craig, was arrested in a public toilet for misbehaving in a way closeted Republicans often do. So apparently it isn't just train stations' rest rooms that turn Senator Craig on.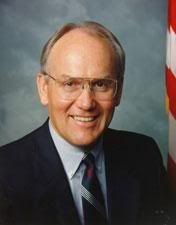 Idaho's Larry Craig on the issues:
* Voted YES on constitutional ban of same-sex marriage. (Jun 2006)
* Voted NO on adding sexual orientation to definition of hate crimes. (Jun 2002)
* Voted NO on expanding hate crimes to include sexual orientation. (Jun 2000)
* Voted YES on prohibiting same-sex marriage. (Sep 1996)
* Voted NO on prohibiting job discrimination by sexual orientation. (Sep 1996)
Craig has a 0% rating in HRC's 2006 Congressional Scorecard.
Related:
* October 2006: A hypocritical senator's closet bit the dust today